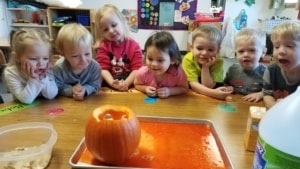 Rainbow Childcare, Inc.
Rainbow Childcare is a not for profit child care agency committed to providing quality, affordable, learning-oriented child care to the greater Green County community.
Quality Care
We have programs available for all children ages 6 weeks thin 12 years. All programs offered are vitally important to a child's physical, social, emotional, and cognitive development. The staff in each classroom creates an environment, including developmentally appropriate activities, to nurture each child's individual development.
Hours of Operation
6 am to 5:45 pm – Monday through Friday. We're always open year round Monday-Friday, even on bad weather days and school breaks! (closed on major holidays) Drop-in care is also available with pre-registration.
Nutritious Meals Served Daily
Breakfast, lunch, and afternoon snack are prepared on site and offered to all children enrolled in the Rainbow program, this includes baby food and formula. All meals meet the State of Wisconsin DPI food program guidelines and are prepared with the ages of all children in mind. All menus are posted weekly.